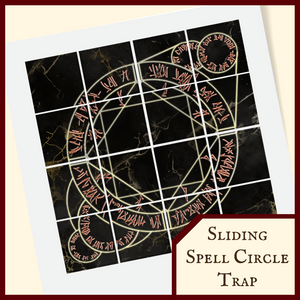 Spell Circle Interactive Trap
Please note, this product is for the PDF design. Pair it with decal paper, and 16 1x1 tiles with the "plain" surface in order to create your trap!
Make your own interactive puzzle to challenge your players and bring your game to life!
The idea of this puzzle is that it is fun and interactive, and adaptable enough for you to pop it into a dungeon or game you're already running.
The tiles then act as puzzle pieces that can be rearranged to form a complete spell circle.
To solve the puzzle and escape the room, players must work out how to shift the floor tiles, moving them into the correct position to form the complete spell circle.
Basic Steps for making your trap:
Print this design on an A5 piece of decal paper on your inkjet printer.

Varnish the decal paper, let it dry and varnish it again.

Cut out the squares, soak them, then transfer them across onto your 1x1 "plain" dungeon tiles. 

Once dry, varnish the finished tiles again.

Bob's your badger! :D
You can follow the full step-by-step guide with handy gifs here!